T?E ???T G????I??S
Once long ago, there lived three guardians of the land around: the wolf, the dog, and the fox. The wolf's name was Dolph and he was the main one of them all. The dog whom is named Apollo is the apprentice of Dolph and is a ancestor of many. And the fox was name Sinopa, she is the most intelligent. These three guardians protected the land for many years, even when they were dead. Nothing is known of their past but to the canines of today's belief they were born from the stars. Some say you could even see there faces in the stars. Although, some do not believe in the mythical silliness of the others and do not believe in the three guardians. Pups must be educated on this as soon as they are born and they must respect them, because if they didn't exist then they wouldn't been here today. Dolph was a grey wolf, the most common known of all the wolves. He was buff and muscular and had the silkiest white fur. He had two pairs of blue eyes and a black line going down his back and black sleeves and face with a white blaze; almost as if he were a siamese. Apollo was a husky/German shepherd/golden retriever/Labrador and so on mix of dogs, he was mainly a burnt brown color with lighter brown, tan, grey, and black and white; he had a pair of green and blue eyes. And last but not least, Sinopa, she was a normal red fox but had white speckles on her back; bigger ears; and longer legs; she also had reptilian green eyes.

Dolph, Apollo, and Sinopa weren't thought of friends but as family; brother and sister. They protected each other just like they did to the land and do not like to see each other in pain. Their bond is unbreakable. They had each other.

~ The Rules ~
~ All dogzer rules apply.
~ No inappropriate messages on the board. (mating, birthing, gore, cussing, etc)
~ No asking to be manager. We already have one.
~ No being mean/rude to the members of the group. In role play it's fine.
~ All characters must have a picture. 2 is the maximum.
~ Be somewhat realistic. I know this RP isn't pure realistic but please be a little. No neon colored animals.
~ When a pack closes for registration then choose another one. It may open some other time when there's a enough characters in one pack.
~ If the page decides to delete itself then we will need someone with membership to help out.
~ Seasons don't change that frequently. It mostly stays with the real life season.
~ A pup ages 1 month every 1 week. A adult/elder every month.
~ Please ask for a the alpha spot of a pack. There probably won't be any soon.
~ Have as many characters as you want. Characters die at 19 years of age.
~ Have fun. :)

~ Forms ~
The Adult Form
Name
Alias (what others call you) (optional)
Gender
Age (adults range from 2 years to 9) (9+ is elder)
Species/Breed (dogs are allowed)
Personality (you don't have to have many, but you can make as many traits as you want)
Bio (optional)
Pack (if once was apart of a different pack put that)
Rank (ask for a alpha spot)
Pack
Crush (optional)
Mate (optional) (you can be your own mate/crush)
Offspring (optional)
Apprentice (if not yet have one then we will assign one)
Theme (the theme song of this character) (optional) (list below - keep scrolling)
Other (anything else you wanna say about this character)
Player (can be open)
Picture Link (Send by PM)
The Young Form
Name
Alias
Gender
Age (pups range from birth to 11 months) (until 1.11 years of age is a yearling)
Breed/Species
Personality
Bio (optional)
Pack
Rank (can be a loner as well)
Rank wanted (must be a normal rank)
Crush (optional)
Family
Mentor
Theme
Other
Player
Picture Link (send by PM)
~ Ranks ~
(Descriptions coming soon)
Alpha Male
Alpha Female
Beta Male
Beta Female
Delta
Adviser
Lead Guardian
Lead Warrior
Lead Hunter/Huntress
Lead Medic
Guardians
Warriors
Hunters/Huntresses
Medics
Elders
Yearlings
Pups
Omegas
___
Loner
___
Alphas: Heather, the alpha female.
Betas: None yet.
Delta: None yet.
Adviser: None yet.
Lead Guardian: No one.
Guardians: None yet.
Lead Warrior: Andrea.
Warriors: Mercy.
Lead Hunter/Huntress: No one.
Hunters/Huntresses: Jack.
Lead Medic: No one.
Medics: Cloud, Myra.
Elders: None yet.
Yearlings: Harley, Alan, Adrian.
Pups: None yet.
Omegas: None yet.
___
The Iris Pack
Name: Falcon
Alias: Falcon
Gender: Male
Age: 5 years
Species/Breed: Island Wolf
Personality: Falcon is usually brave, loyal, and flirty. He is popular among the wolves for his enjoyable personality but he also has a flip side. Around other wolves of his pack he is normally cheery, light hearted, and loyal. In battle he is brave, determined and will fight for what he feels is right--even if that means not fighting in a battle because he doesn't agree with it. This makes him independent at times and he likes that about himself. With the ladies, he can be flirty if he likes one of them but would never really get carried away.
Bio: He was born into this pack, worked hard to become who he is now, and is proud of it. His father was a loner so he always lived with taunts from the other pups and his mother never really wanted him, so he was always more-or-less alone as a pup but now he's turned out to be a pretty popular wolf.
Rank: Beta Male
Crush: None yet
Mate: Wants
Offspring: Wants
Apprentice: None yet
Theme: Animal by Neon Trees
Other: He hates his mother for not caring about him
Player: Pinkey280

Name: Mercy.

Alias: Mar; Mars.
Gender: Female.
Age: 5 years and 2 months.
Species/Breed: Grey Wolf.
Personality: Mercy is the most mischievous wolf in the pack. Even though she's suppose to break out of that trait when she was an adult, it sorta followed her and became her main trait. Unlike her younger sister, Mercy is less willing to help out others and will help out herself before she does for anyone else. She is highly social and talkative and doesn't mind a good chat with her friends to get away with her duties for the days. Mercy loves spending time with her young sister but she dislikes her brother, Jack. Mercy and Jack would have been rivals if they weren't related.
Bio: Coming soon.
Rank: Warrior.
Crush: No one catches my eye.
Mate: Eh. Nope.
Offspring: None.
Apprentice: No one yet.
Theme: Doesn't have one yet.
Other: Has a scar on her muzzle and on her flank.
Player: MoonSkys122
Name: Anya
Alias: none
Gender: Female
Age: 3 years and 6 months old
Species/Breed: Maned Wolf
Personality: Cautious, capable, dedicated, reliable, asocial, and distant
Pack: Iris Pack
Rank: Warrior
Pack: The Iris Pack
Crush: ...
Mate: none
Offspring: none
Apprentice: none
Theme: Better by OneRepublic
Other: Anya gets depressed at times and hides her depression from other by keeping herself busy and by doing her job. She has thought about having pups before but she's decided that she isn't in the right condition to have pups since she gets depressed a lot and doesn't even have a mate.
Player: strawberrywaffles
Name: Jack.
Alias: Jay; Birdie, hates; Blu Jay.
Gender: Male.
Age: 5 years and 2 months.
Species/Breed: Grey Wolf.
Personality: Jack is weird and annoying as said by a few of his pack-mates and definitely by his sister, Mercy. Jack is extremely hard to get away from and often teases others for the sake of it. He is mysterious and secretive but he always acts like some goofy yearling. He hates being ignored and tries his best to get others to notice him, but you know how that goes. He is never sensitive and it's hard to break him down. Jack is swift and agile and is skinny as ever and he's a normal ranker. Just like his sister, he is also sociable but others don't pay him any mind. He is also a trickster.
Bio: Coming soon.
Rank: Hunter.
Crush: HA! why would I have one!?
Mate: Nope. o.o
Offspring: Uh! no!
Apprentice: Won't let me have one.
Theme: Heathens - Twenty one Pilots.
Other: He is always alone.
Player: MoonSkys122
Name: Water Lily
Alias: Lily
Gender: Female
Age: 3 years
Species/Breed: Timber Wolf
Personality: Frisky, smart, and timid, Lily is a kind wolf. She is frisky and playful around those she knows but very shy and timid around those she doesn't. Lily is extremely dedicated to her job and absolutely loves pups. She is great with the sick but feels that it's her fault when a wolf or dog dies. As for males, she feels that she's too clumsy and shy to get a mate but she really wants pups of her own.
Bio: She was born into this pack as a full blooded member but was extremely shy and hesitant as a pup, sticking with her mother the whole time. One day, he mother died from infection and she felt like her world had fallen apart. A few day later, she became an apprentice to a medic and dedicated her life to making sure no other pup had to lose it's mother the same way she did. She trained hard and became an expert in healing pups, pregnant wolves, and nursing wolves.
Rank: Medic
Crush: None
Mate: None
Offspring: Really wants
Apprentice: None yet
Theme: Radioactive by Imagine Dragons
Other: None
Player: Pinkey280
Name: Harley.
Alias: Lea; Harlequin.
Gender: Female.
Age: 1 year & 6 months.
Species/Breed: Manitoba Wolf.
Personality: Sassy as ever, Harley is just that. She goes her own way and likes to boss others sometimes but her "mother", Natasha, tells her not to do that and she listens and only to her. She dreams of becoming the alpha of the pack just like Heather. She is a extreme snow lover and likes to hide under snow to get away from all her training for the day. She very sarcastic and pretty much is everyday. She dislikes strange wolves.
Bio: Coming soon.
Rank: Yearling.
Rank wanted: Warrior.
Crush: Nah. I don't think so.
Family: I was adopted by Natasha and I've been with her ever since I was 4 months.
Mentor: Natasha, my mother!
Theme: Gangsta - Kehlani.
Other: She doesn't remember her real family.
Player: MoonSkys122
Name: Alan.
Alias: Al; Sparky, by Harley, hates this one.
Gender: Male.
Age: 1 year and 4 months.
Species/Breed: Mexican Wolf.
Personality: Alan is about your average everyday wolf. He likes jumping all over the place and chasing his tail, because of this habit he's been called 'Sparky' by Harley multiple times and some even by his pack mates. He isn't up for crushes and despises the word. He really just wants to be a normal wolf instead of being popular cause it just gets in the way, ya know?
Bio: Alan was found near the human village. He was born a loner and was one at heart. His mother was seriously struggling and needed to feed their mouths but it was very difficult since they were in mid winter. His mother couldn't even keep herself fed because of all the eight empty mouths that were never full. Alan's mother than gave up on raising them and abandoned them there. Alan's brothers and sisters didn't know how to survive on their own and huddled up together. Alan didn't join them and left them to go and find their mother. He found her in snow, buried within it. She was barely breathing from that time being and had gave up and passed away. Alan was extremely traumatized and ran away crying and yelping for someone. He ended up finding a wolf named Myra, she adopted him and raised him. The two stayed with each other throughout the whole winter, never leaving each other's warmth. It seems like Alan hadn't seem upset ever since and was having a good time with his adoptive mother. After some months have pasted, one of Alan's siblings had found the two happily with each other. It was Alan's brother, Adrian and he was in a highly critical state. His leg had been broken into many smaller pieces and he needed help immediately. Of course Myra didn't know what to do cause she seemed terrorized. She quickly picked Adrian up by his scruff and to the river to wash his wounds. The leg eventually healed and Adrian had recovered. More months had pasted by and they found a pack, the Iris pack, and they let them join and they lived here ever since.
Rank: Yearling.
Rank wanted: Hunter.
Crush: EW! NO WAY.
Family: Myra is my mother. My brother is Adrian.
Mentor: I don't have one.
Theme: Ode to Sleep - Twenty one Pilots.
Other: N/A.
Player: MoonSkys122
Name: Kaia
Alias: Kai is her nickname; She is called Kenny by other wolves;
Gender: Female.
Age: 4 months.
Species/Breed: Timber Wolf (50%) X Czech Wolf dog (43%) X Arctic Wolf (7%)
Personality: Kaia rambunctious yet docile. She is graceful yet strong and fierce. She won't let anything get in her way and she'll do anything to achieve something, well sometimes. She is extremely enthusiastic and loves to smile like the dork she is. She enjoys playing and never gets tired until it's usually midnight, and she may have some difficulties getting up in the mornings but she manages before others start to stir. She is a bit sarcastic and likes to be since it is fun to her.

Alphas: RESERVED FOR THE DIRECTOR.
Betas: Ajax, the beta male.
Delta: None yet.
Adviser: None yet.
Lead Guardian: None yet.
Guardians: None yet.
Lead Warrior: None yet.
Warriors: Halo.
Lead Hunter/Huntresses: None yet.
Hunters/Huntresses: None yet.
Lead Medic: None yet.
Medics: None yet.
Elders: None yet.
Yearlings: None yet.
Pups: None yet.
Omegas: None yet.
___
The Hawk Pack
Name: Eric
Alias: None
Gender: Male
Age: 3 years and 7 months old
Species/Breed: Island Wolf
Personality: Kind, fierce, loyal, protective, gentle, and aggressive when he has to be.
Bio: ... He prefer not to speak about his past.
Pack: The Hawk Pack, but when he was very young he used to be part of a small unknown pack.
Rank: Alpha Male
Crush: None
Mate: None
Offspring: None
Apprentice: Alec.
Theme: Troye Sivan - Heaven (ft Betty Who)
Other: He took in a pup he found abandoned and has since called him his son. He has a secret that he hasn't told any other wolf before besides his son who promised to keep it.
Player: strawberrywaffles
Name: Ajax.
Alias: None, he prefers to be called by his name.
Gender: Male.
Age: 3 years and 11 months.
Species/Breed: Italian Wolf (100%).
Personality: Ajax is a clever and sneaky wolf. Others still wonder why he'd been assigned the beta rank but he just ignores them. He is devilish like Halo but not as much. Ajax likes to crush delicate flowers and take down the newborn animals that had been just born. He isn't really that strong and a injured deer could easily toss him around like a toy. Ajax isn't a wise one and it's easy to tell that he's a selfish one. He maybe doesn't have a clue what wisdom is. He awfully makes things awkward for others and really doesn't care what others say about him. He is a bit crazy.
Bio: Born into the pack, raised as a normal wolf until the alpha assigned him as the beta and so, so he got this rank since no one else was qualified. But he just says that he's born a loner and fought in the war against the Iris and Nova, which is a ugly lie.
Rank: Beta Male.
Crush: Hm... No! :V

Mate: Ha. What.
Offspring: They're too much responsibility.
Apprentice: Never had one in my life.
Theme:
Other: Is somewhat shorter than other wolves.
Player: MoonSkys122
Name: Halo.
Alias: Hal, or Angela.
Gender: Female.
Age: 3 years and 1/2 a month.
Species/Breed: Grey Wolf.
Personality: She is graceful yet devilish. Halo is normally in her sweet, and calm persona but she herself could get angry and extremely violent. She cannot help her devilish ways and has always been like this ever since she was a young pup. She has post traumatic stress disorder, so it may be because of that. She remembers being a young yearling and she had to fight against the Iris, and the Nova and believe it, it wasn't very lovely. She doesn't like being with others and prefers to hide from the depths of her pack. She hates the alphas, betas, and really pretty much everyone.
Bio: Halo was once a normal young pup, living with her mother and father plus her 6 other noisy siblings. Life was great. Until, the day had came; it was time for battle. The Iris, Nova, and Hawk have been rivaling between each other for the past 4 years and this battle had happened. The pups were yearlings, perfect for fighting. They're parents had no control over the pups' lives and tried their best to convince the alphas to let them stay but they didn't listen to a word they said. Halo and her siblings ended up in the war and had to fight the most powerful wolves that exist and they were wiped out. Many of her siblings had got killed and Halo had to finish the war on her own with other wolves she doesn't even know. The battle went on for a year and it was finally finished. Halo had did her part well and managed to survive, but her parents were killed during the war and she was left traumatic. She tries her best to not remember them but every time she tries it grows more.
Rank: Warrior.
Crush: No....
Mate: I don't have one.
Offspring: Never would I ever.
Apprentice: I don't have one yet.
Theme: None yet.
Other: Is covered with scars from head to tail.
Player: MoonSkys122
Name:
Alias
Gender
Age
Species/Breed
Personality
Bio
Rank: Medic
Crush
Mate
Offspring
Apprentice
Theme
Other
Player: strawberrywaffles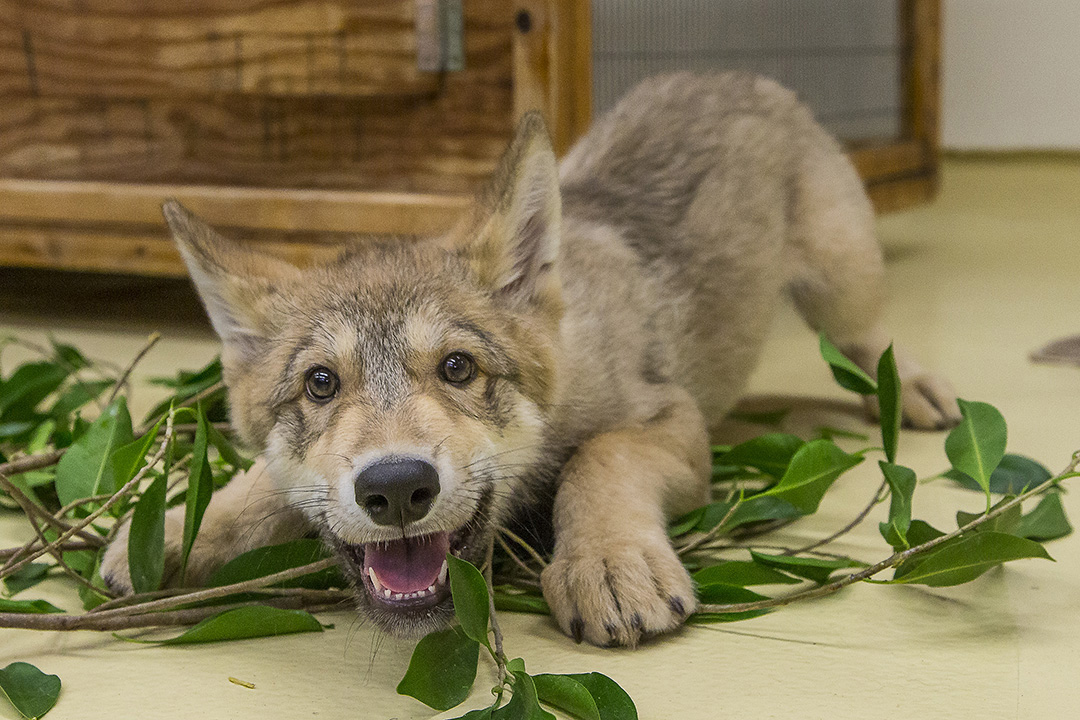 Name: Alec
Alias
Gender
Age: 4 months
Breed/Species: Grey wolf
Personality: Outgoing, cheerful, adventurous, brave, and protective.
Bio:
Pack: The Hawk Pack
Rank: Pup
Rank wanted: Warrior
Crush: None
Family: "My mom abandoned me since she didn't like me I think and Eric found me alone so he'd my dad now! I love my dad!"
Mentor: "My dad!"
Theme:
Other:
Player: strawberrywaffles
_____
Name: Copper
Alias: None
Gender: Male
Age: 3 years old
Species/Breed: Island wolf
Personality: Aggressive, quiet, steadfast, and reserved.
Bio: ???
Rank: Loner
Crush: none
Mate: None
Offspring: None
Apprentice: None
Theme: Goner by Twenty One Pilots
Other: ???
Player: strawberrywaffles
Name: Slash
Alias: None
Gender: Female
Age: 2 years and 8 months
Species/Breed: Timber Wolf
Personality: Tough, independent, bold, and fierce, Slash is not one to be messed with. She was taught by her father, to never fully trust anyone except kin and she has stuck to her promise to obey that law. Since she was born a loner, she has the natural ability to scavenge well and find meals or hunt her own. She is tough as nails in battle and will fight to her death, partly because she was raised to do so and partly because of her pride. She follows the way of a loner--not usually interested in other wolves or pack wolves, and she dose not put trust in anyone easily. However, although Slash is tough and brave and courageous, she also has a soft heart if she falls in love with someone. Her loyalty and trust is gained, and you are her number one priority.
Bio: Slash was born to a loving mother and father who where both loners. Her mother had died about a week after she was born due to infection and weakness. Her father had then taken on the responsibility of raising her and he taught her everything he knew about everything. She was eager to learn and loved her father deeply. On a misty mourning, her father was shot by a poacher. She lay with him while he died, and he called her his little warrior, as he always had. She then ran after he died, trying to escape the poacher. She ran until she had lost him and by then she didn't know where she was. She made a small den and has lived there ever since.
Rank: Loner
Crush: Never
Mate: Too Risky
Offspring: None
Apprentice: None
Theme: Ready Aim Fire by Imagine Dragons
Other: She is afraid of having pups because she is afraid she will have to leave them like her mother left her, and she doesn't want them to have to live like she's had to.
Player: Pinkey280
Name: Yarrow
Alias: He was called Arrow by his father and Roe by his siblings and grandparents.
Gender: Male.
Age: 2 years and 9 and ½ a month.
Species/Breed: Grey Wolf (50%) and Alaskan Noble Companion Dog (50%).
Personality: Yarrow is a cunning, sarcastic, and strange wolf. His personality is about half of sarcasm and weirdness, it is a mystery that shall never be uncovered. Nobody really knows why he left his pack as a PUP, seemingly it was because he needed his own space? eh. Yarrow likes to tease others and also scare them. He never really had contact with another wolf for 2 years, sure enough he sees some other lone wolves nearing on him but he still never says a word. Yarrow is so lazy that he sometimes doesn't move a bit when he's sleeping and others actually think he'd died. Yarrow is very witty and knows when there's a wolf nearby, though he never acts like it. He isn't very dominant over his 'territory' and lets other wolves come by. Yarrow is barely capable of surviving on his own with a huge wound. Sometimes he questioned himself for not sticking with his pack. Although his personality traits may take him off of being a gentle sweetheart, he is if he had fallen for another being or felt like that being should live further more.
Bio: Yarrow was born in the Hawk pack, ready to take on the world. His mother took the rank of being a lead warrior, so her rank was good and everyone even the alpha respected her well. Yarrow's father was a beta male and he was also well respected. He was born with 4 other siblings, they too were ready to take on the world. Unbelievably, Yarrow was born a shy and quiet wolf. His siblings were quite more confident and noble and lacked in confidence. His grandfather decreased in interest and disliked him the most out of his litter mates. Yarrow's father however, thought he was gonna become a noble warrior one day and treat him like he was the prince or something, and truly, he was. Yarrow's mother also liked him but not as much as his one sibling, Lucy. Yarrow and Lucy were technically rivals but his parents disapproved of it. Lucy would casually headbutt him or tear him from limb to limb and when he tried to fight back, his mother would scold him and bite at him or toss him aside. Yarrow hated his mother for this and hang around with his father more often. His father began to teach him how to be a warrior, he'd did well for most parts but even training was a bit of a challenge. He'd occasionally train everyday and it left him exhausted. One night, another lone wolf was lurking around their territory. The alphas noticed and sent his father and his mother plus a few other warriors to go and investigate. It turns out this wolf was very powerful and went by the name Farcas. The group was wiped out, and eventually his mother and one more was left. His father was laying on the ground with a pool of blood surrounding him. His mother carried him back to his pack and sent him to the medic. Yarrow tried to go see him but his mother snarled at him and chased him away; however, his siblings followed and got the chance to see him. Yarrow cried and cried and howled for sympathy. And moments before his father's death, he'd call for Yarrow to come and see him. His mother hesitantly agreed and let him in. His father's last words were: "Yarrow. My little arrow, you'd pierced me through my heart and I fell in love. I hope the best of you, don't be letting others push you around; you fight back until they have mercy. I will miss you, but one day, you'll visit me. I hope the best of you, my little arrow." and he'd slowly passed. Yarrow was in tears and his mother told him to go and he bolted. He'd came across his grandmother weeping and he went over to her. Unlike his grandfather, his grandmother was very nice and loved Yarrow to death. She told Yarrow that she'd care for him and won't leave him ever. Months have passed since that, and one misty night, the killer of his father Farcas had came with his minions and ripped through the pack. Killing everything in sight, a few hawk members were left; his mother was dead and so was his grandfather. His grandmother had carried him and his siblings far away from the pack; there was a cave under a waterfall and they'd stayed there for months. They were safe for a little time and that's when Farcas had came again and killed his grandmother and some of his siblings. Lucy and Yarrow had escaped and were depending on one another for survival. They were struggling, well Lucy the most, she was ill and weak. They went on days without food and some days without water and that's when Lucy couldn't handle it no more, she'd collapsed in the snow and slowly died there. Yarrow went off weeping and crying and never returned to that spot. The snow covered his sister's body and she decayed over time. Yarrow lived by himself since then.
Rank: Loner.
Crush: WHAT. How dare you ask such a silly question.
Mate: Does it look like it? huh?
Offspring: If I don't have a mate...then how do I have pups? magic? is it magic?
Apprentice: Like I would have one...or want one.
Theme: Without Me.
Other: Some think he doesn't have any fear.
Player: MoonSkys122