I am ilovepeanutbutter87
I also play on dogzer.net
i do except random friend requests
But if you are offline for more than 2 weeks without telling me you won't be on, i will delete you. Enough about this i'll tell you about my self!
I have this strange obsession with the walking dead. I am very sad right now because I have to wait a WHOLE MONTH for it to come back on.
Hmmmm maybe I should watch old seasons all over again. whatever I guess i'll mourn about it more until February 8th . But anywho- my favorite characters are 1. Daryl 2. Michone 3. Carl LAet me know if you also love TWD!
I am a girl and i am 12. I will not tell you my name though. I have many animals including mice, chickens, cats, and much more. I have a dog who is my best friend. I absulutley HATE girly things! I am a complete tomboy. My favorite sports are dog agility and baseball. My favorite color is green, red , orange and blue. My favorite food is beef jerky and I love animals. I also Love to eat, sleep, train my dog, do crafts and other stuff like that. my favorite show is the walking dead. My favorite breed of dog is a pug.
My Rules!
- Do not beg me for stuff it annoys me
- do not beg me to buy a dog i myself am broke!
- If you want to buy my dog Ask!

- Do not ask me to buy a puppy i am running low on hourglasses
- Please do not send me winks
- Do not ask me to buy a Premz dog
- PLEASE LISTEN TO THESE RULES OR ELSE!
I am obsesed with the walking dead! Let me know if you are to!
Help Mourice Travel The World By putting him on your page!
HI, I'M ILOVEPEANUTBUTTER87 MY FAVORITE BREED OF DOGS ARE PIT BULLS AND PUGS. ONE DAY I WANT TO MAKE A PUGIBULL BUT I DON'T KNOW IF THAT WOULD WORK.
I live in the u.s and i have 1 mouse, 10 chickens, a butt load of geckos, 2 tarantulas, 2 cats, a bearded dragon named Sharquisha , and my best friend Stormy the poodle

I AM A GIRL THAT LIVES IN THE MIDDLE OF NOWHERE I LOVE BACKYARD AGILITY AND ART.
MY POODLE IS ALSO AMAZINGLY TRAINED BY ME!!
MY BUNNY
Most Recent News
-My Chicken hatched her first chicks! 6.23.15
- My A versicolor tarantula died 7.6.15
Pics of MY BEST FRIEND!
I LOVE TO TALK SO IF YOU ARE ONLINE CHAT ON MY WALL!
file:///E:/DCIM/149NIKON/DSCN2985.JPG






Dogs for sale are in the forums! if you want one of my dogs thats not for sale, just ask! i always make deals
Dogs with a name like this * * mean they are either going to be sold or are on hold
I LOVE PUGS!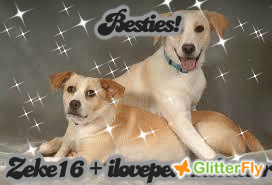 Thank you so much Zeke16!!!
Friends: Never ask for food
Best Friends: Are the reasons you have no food
Friends: Call your parents Mr/Mrs
Best Friends: Call your parents MOM/DAD
Friends: Never see you cry
Best Friends: Have a wet shoulder for your tears
Friends: Borrow your stuff for a few days then give it back
Best Friends: Keep your stuff so long they forget its yours
Friends: Know a few things about you
Best Friends: Could write a book about you with direct qoutes from you
Friends: Will leave you behind if that is what the crowd is doing
Best Friends: Will stay behind to help you rise again
Friends: Would knock on your door
Best Friends: Walk right in and say "I'M HOME!"
Friends: Will talk meanly to the person who talks meanly about you
Best Friends: Will knock them out.
Friends: Would read this
Best Friends: Will steal this, and put it on their page.
HAA! Just like my dog!
Justin Bieber were to jump off a sky scraper, 99% of the people below him would scream and sob, while the other 1% would grab shades, popcorn, and a chair and yell "Do a back flip!" If you are that 1%, copy this and put it on your page
If you saw a boy hitting a dog with a bat 90%of you would walk away, 8% would laugh and the other 2% would take the bat and hit the boy and walk away with the dog. RE-POST THIS IF YOU ARE THAT 2%
TWD MEMES
but CARL!
WHY!!
I JUST STARTED BREEDING YORKIES
HER ARE THE PRICES:
FEMALLE PUPPY ( NEWBORN) 500 DOGZ
FEMAL PUPPY 500 DOGZ
FEMALE PUPPY TRAINED 550
FEMALE DOG 600
FEMALE TRAINED650
FEMALE TRAINED WITH BONUS 700 TO 900 DEPENDS ON BONUS
MALE PUPPY 500
MALE TRAINED PUPPY 500
MALE 550
MALE TRAINED 550
MUTT: ANY GENDER 500
ALL OTHER DOGS 500 DOGZ
PRICES ARE A LITTLE HIGH SORRY BUT I NEED A PREMZ SO I CAN GET MORE HOURGLASSES